Dietary Supplements private label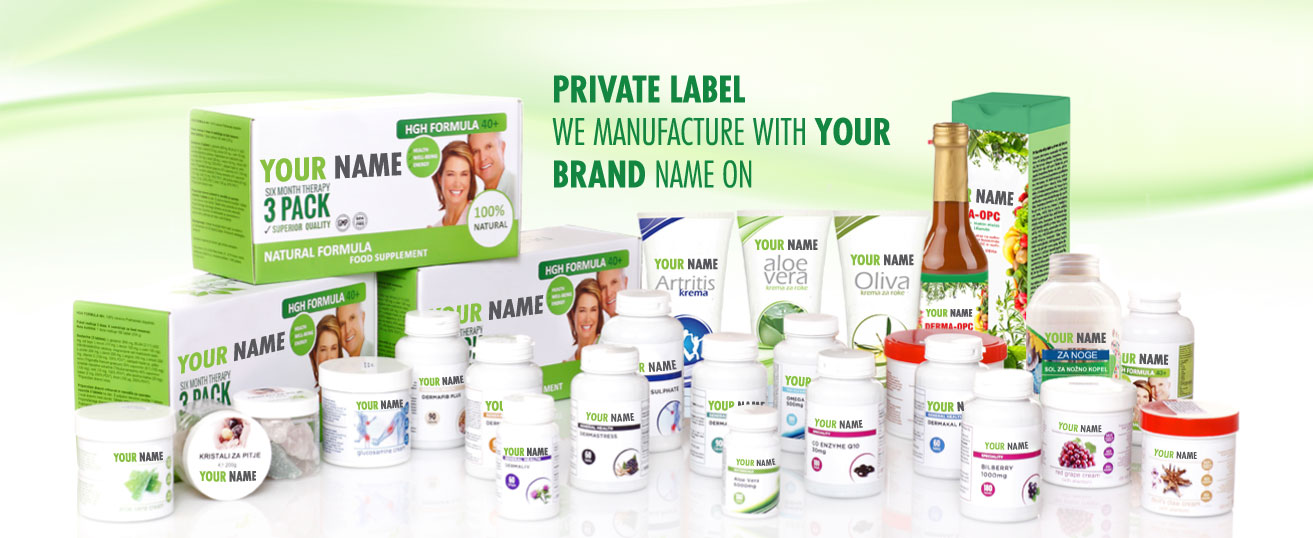 Our expertise comes from the experience!

We have capability for bottling, shipping, fulfillment, drop shipping and custom label process. We know how important your brand is and we can help you provide custom solution for your business.

Our other benefits are:

- By contacting us you will be able to do things you cannot do with other companies such as having lower minimums.
- With branding your own company in the Private Label Supplement market using DERMASAL products, you can become a top 10 competitor
- We follow all GMP guidelines to ensure the safest and most accurate product for you and your customers
- We assist you in getting your custom formula developed
- Our designers and printing systems will help you with the private labeling of your product and your brand

So if you are looking for a nutritional supplement supplier, with the experience and knowledge to support each step of developing your brand PLEASE CONTACT US. We offer more support services than many other manufacturers! We help you to build and grow a successful business.

DIETARY SUPPLEMENTS:



5 HTP 100mg V Tablet
AAKG 2:1 1000mg V Tablet
AAKG 500mg Capsule
Acai Berry 1000mg Capsule
Acetyl-L-Carnitine 500mg Capsule
Acetyl-L-Carnitine 500mg (Coated) V Tablet
Acidophilus 500million CFU V Tablet
African Mango 1200mg V Tablet
Aloe Vera 6000mg V Tablet
Alpha Lipoic Acid 250mg Capsule
Apple Cider Vinegar 35% 400mg Capsule
Ascorbic Acid (vitamin C) V Powder
A-Z Multi Vitamins & Minerals V Tablet
BCAA 2:1:1 500mg Capsule
Beta Alanine 1000mg V Tablet
Beta Alanine 500mg Capsule
Bilberry Extract 1000mg Capsule
Black Soy Bean 1000mg Capsule
Black Soy Bean 1000mg
Green Coffee Bean 1000mg Capsule
Borage Oil 500mg/Starflower Oil
Breath Fresheners V Tablet
Bromelain 350mg Capsule
Caffeine 200mg Capsule
Caffeine 200mg V Tablet
Calcium 400mg
Magnesium 200mg V Tablet
Calcium 400mg
Magnesium 200mg V Tablet
Capsicum 1000mg Capsule
Carb Blocker Capsule
Celadrin 500mg Capsule
Childrens Chewable Multi Vitamins V Tablet
Childrens Chewable A-Z Multi Vit & Min
Chilli Burner Capsule
Chitosan 250mg Tablet
Chromium 200mcg V Tablet
Cinnamon 2000mg V Tablet
Citruline Malate 1000mg V Tablet
Citruline Malate 500mg Capsule
Co Enzyme Q10 100mg Capsule
Co Enzyme Q10 300mg Capsule
Co Enzyme Q10 30mg Softgel
Cod Liver Oil 1000mg Softgel
Cod Liver Oil 550mg Softgel
Conjugated Linoleic Acid 1000mg Softgel
Cranberry 5000mg V Tablet
Cranberry 5000mg V Capsule
Creatine 1000mg V Tablet
Creatine 750mg Capsule
Creatine Ethyl Ester 500mg Capsule
Creatine Gluconate 500mg Capsule
Creatine HCL 500mg Capsule
Creatine Mono 500mg
Caffeine 100mg Capsule
Creatine Monohydrate 500mg Capsule
Creatine Pyruvate 500mg Capsule
30 day Detox Capsule
Evening Primrose Oil 1000mg Softgel
Evening Primrose Oil 500mg Softgel
Energise Vitamin Complex Capsule
Fenugreek 1000mg V Tablet
Fibre Plus (Detox and cleanse) Capsule
Fish Oil 1000mg 18/12 Softgel
Fish Oil 1000mg 33/22 Softgel
Fish Oil 1000mg 50/25 Softgel
Fish Oil 18/12 500mg Softgel
Fish Oils 3, 6 & 9 1000mg Softgel
Flaxseed Oil 1000mg Softgel
Folic Acid 400mcg V Tablet
Garlic 2mg (Odourless) Softgel
Garlic 5000mg Capsule
Garlic 500mg Capsule
Ginger 12000mg V Tablet
Ginkgo Biloba 3000mg
Ginseng 1000mg V Tablet

Ginkgo Biloba 6000mg V Tablet

Glucosamine Sulphate 2KCL
Marine Chondroitin Sulphate Capsule
Glucosamine Sulphate 2KCL 1000mg Capsule
Glucosamine Sulphate 2KCL 1000mg Tablet
Glucosamine Sulphate 2KCL 1500mg Tablet
Glucosamine Sulphate 2KCL 500mg Tablet
Glucosamine Sulphate 2KCL 500mg
Marine Collagen 400mg Tablet
Glucosamine Sulphate 2KCL 500mg,
Marine Chondroitin Sulphate 100mg
MSM 100mg Tablet
Goji Berry 2000mg V Tablet
Grapeseed Extract 50mg V Tablet
Green Coffee 1000mg
Raspberry Ketones 100mg Capsule
Green Coffee Bean 1000mg Capsule
Green Coffee Bean 6000mg Capsule
Green Shell Mussel 500mg Capsule
Green Tea 850mg Capsule
Green Tea extract 450mg
Guarana 2000mg V Tablet
Hair Skin and Nail Complex Capsule
Healthy Hair Formula Capsule
HMB 500mg Capsule
Hyaluronic Acid 50mg Capsule
Iron 14mg V Tablet
Kelp 600mg Capsule
Konjac Fibre 500mg Capsule
Korean Ginseng 1300mg V Tablet
L-Arginine 500mg Capsule
Lecithin 1200mg Softgel
L-Glutamine 1000mg V Tablet
L-Glutamine 850mg Capsule
L-Lysine 1000mg V Tablet
L-Taurine 600mg Capsule
Lutein 10mg Capsule
Maca 500mg V Tablet
Magnesium 100mg V Tablet
Maqui Berry 2000mg V Tablet
Marine Collagen 400mg Capsule
BCAA & Glutamine 1000mg V Tablet
Metabolism Formula Capsule
MSM 1000mg V Tablet
Multi Vitamins V Tablet
Plant Sterols 400mg Capsule
Plant Sterols 800mg V Tablet
Pomegranate 250mg V Tablet
Probiotic and FOS V Tablet
Psyllium Husk 500mg Capsule
Raspberry Ketones 100mg Capsule
Raspberry Thermo 1000mg Capsule
Red Clover 1000mg V Tablet
Rosehip 2000mg Capsule
Royal Jelly 750mg V Tablet
Selenium 200mcg & ACE V Tablet
Siberian Ginseng 1000mg V Tablet
Soya lsoflavones 400mg Capsule
Spirulina 500mg V Capsule
Tan Tablets V Tablet
T-Burn RH. Capsule
Vegetarian Glucosamine 750 HCI V Capsule
Vitamin B Complex V Tablet
Vitamin B12 250mcg V Tablet
Vitamin B12 1000mcg Sublingual V Tablet
Vitamin B6 50mg V Tablet
Vitamin C 1000mg V Tablet
Vitamin C 1000mg & Rosehip 20mg
Bioflavanoids 20mg V Tablet
Vitamin C 500mg With Rosehip Capsule
Vitamin D2 400iu V Tablet
Vitamin D3 2000iu V Tablet
Vitamin D3 5000iu V Tablet
Vitamin E 400iu (Synthetic) Softgel
White Kidney Bean Extract 5000mg Capsule
Zinc 15mg V Tablet
Zinc Gluconate 50mg V Tablet
Zinc, Magnesium & Vitamin B6 V Tablet
Zinc, Magnesium & Vitamin B6 Capsule
FOR PRICES AND DELIVERY TIME PLEASE CONTACT US: